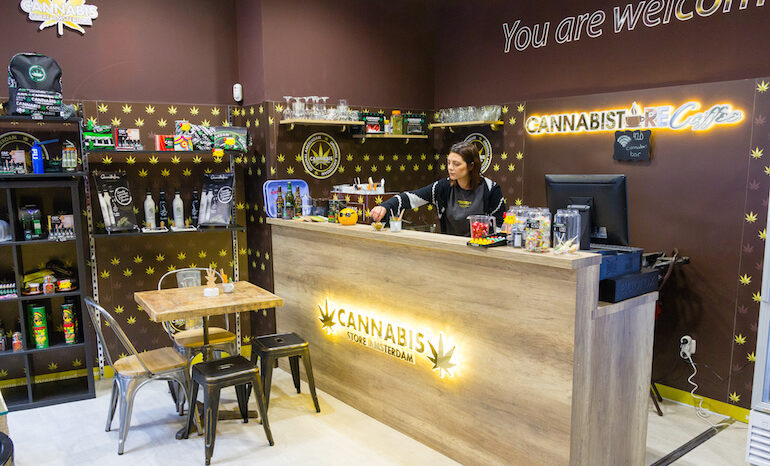 When passing through the surroundings of Callao Square , something catches our attention. Ours and that of many of the people who walk there and who cannot help but fall in love with a shop window and try – with a half smile and a lot of curiosity – to discover what is going on inside. The marijuana leaves that are advertised on its facade make it clear which is the center of such expectation. Cannabis Store Amsterdam Madrid arrives at the Calle Preciados to put at our disposal an arsenal of truly amazing products that incorporate part of the properties of the plant, obviously without THC , the illegal constituent of cannabis.
When entering the interior, something reminds us of Amsterdam, where this type of shops proliferates between coffee shops and souvenir shops. And it is that precisely in other European cities this franchise begins that the businessman Yamin Benhamú has brought to Madrid. Inside we are attended by the smiling Juliette Ghamra who rushes to offer us a coffee . 'Classic, with hemp essence or with CBD?' Since the prejudices in this regard are many, we sit down to hear what each one has to understand more about this shop / cafeteria that is a small earthquake in the heart of the city.
We venture to try the one that contains CBD , since as she explains to us, it is the medicinal substance of cannabis, that is, the one that helps us relax. In this case, the concentration of CBD is so small that, being coffee a stimulating substance, the effect can be noticed very lightly (always depending on the tolerance of each person). In addition, it has a somewhat special flavor and can be accompanied -as a coffee to use- of milk of animal or vegetable origin, to the taste of each.
As a complement to this original coffee, an assortment of cookies and great cookies that are, as Juliette tells us, the best seller in the store. In the case of small cookies, its aroma and smell of grass is intense and the taste has as many lovers as detractors. If we talk about the Cookie with chocolate chips , for example, things change a lot and we will hardly notice that it contains cannabis derivatives. A butter cookie ' with something special '.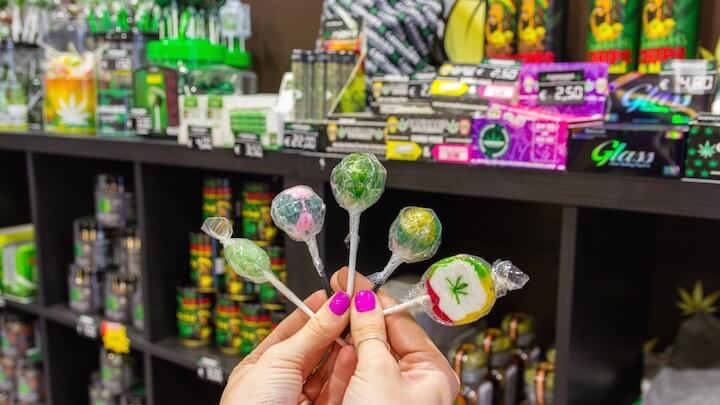 But not everything is going to be brown. On the shelves that surround this Prized Cannabis Store, we find a few more surprises. Another one that can be taken in one of the tables that are arranged in the establishment are their beers , for example. Very fresh and, like coffee, with CBD. How could it be otherwise, here we also have something for pica pica, in case we whet our appetite with the reeds. These are chips – similar to Fritos of a lifetime – that include substances derived from the mary (like everything here) and that have an addictive spicy touch at the end. A VERY original break for mid afternoon.
In addition to these products that are ideal for on-site consumption, here they have a good assortment of lollipops, which, as they indicate from the store, are other of the most consumed products. And it is that the variety overwhelms: from candies with intense herb flavor to others that mix it with chewing gum, fruits or soft drinks. Beside these, the sweet section continues with different varieties of chocolate or the coffee itself to take you home. In Cannabis Store Amsterdam they also think of smokers and there are really original objects that, even if they are curious, are well worth your visit.
And so, between cañitas, coffee and that hymn of Bob Marley that is ' No woman no cry,' among other mythical reggae melodies, one leaves the store more learned and, why say it, something more chill . With preconceived ideas on the other side of the door, knowing Cannabis Store Amsterdam is highly recommended. We assure you that the good time will be worth it.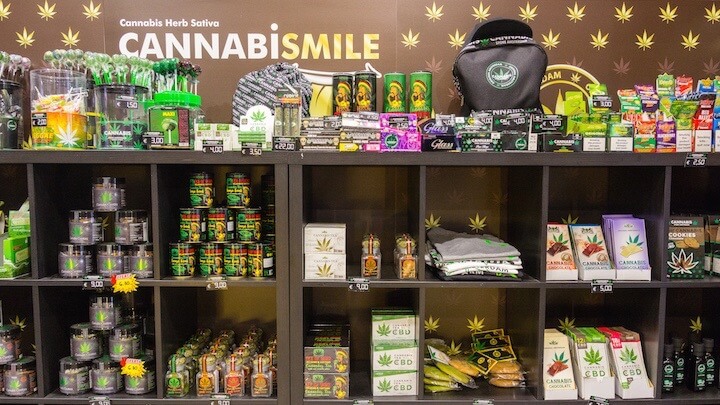 Source: https://madriddiferente.com/tiendas/cannabis-store-amsterdam-madrid-centro/
https://cannabismadridclub.com/wp-content/uploads/2019/09/CANNABIS-STORE-AMSTERDAM-MADRID-Tienda-de-articulos-de-cannabis-comestibles-y-relacionados-perfectamente-legales-770x466.jpg
466
770
420 bong
http://cannabismadridclub.com/wp-content/uploads/2019/07/icon-above-font-transparente-300x65.png
420 bong
2019-09-24 21:52:43
2019-10-09 16:07:04
'Cannabis Store Amsterdam', a surprise in the center of Madrid